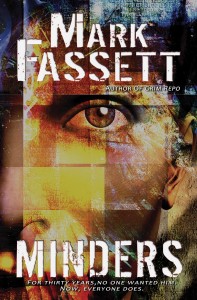 Steve sleeps in the darkest of places by day and roams the streets at night, a victim of cutting edge science. His unwanted reality crashes down around him after he receives a cryptic message from another who shares his fate. "They hunt, brother." Steve must dodge betrayal, clandestine organizations, and others with abilities like his to learn why, after thirty years, someone finally cares.
Posts Tagged 'Science Fiction'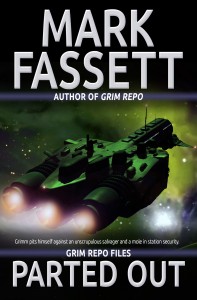 After a year in the deep dark of the Fringe, Parted Out is now available almost everywhere! It's another fast paced adventure for Captain Grimm and his crew, and I have to say that, even after the fourth and fifth read, I still enjoyed it.
If you haven't read about Grimm, before, I've got a special treat for you. Grim Repo, the first book in the series, is now free almost everywhere it's available. I'm working on getting it free on Amazon, too, but they seem to be taking their time in matching the price.
So, download Grim Repo, then treat yourself to Parted Out!
Here's the blurb.
Starship repossession specialist Grimm and his crew, after their last botched repo, look forward to an easy and quick job, with their eyes on a much needed vacation as a reward.
Unfortunately, nothing ever goes as planned for Grimm. Caught between a salvager who wants the same ship and a bank that has him on a very tight deadline, Grimm must use every trick he knows to get the ship off station, intact and on time, while keeping himself and his crew alive.
The first chapter and links to where you can buy Parted Out are on the Parted Out page.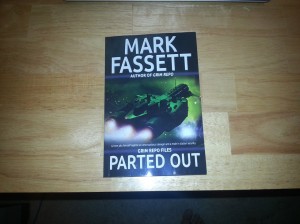 I have the proof copy of Parted Out, the second book in The Grim Repo Files, in my grubby little hands. It's twice as long as the first book, and hopefully twice as exciting.
The book will be out at the end of the month, barring any unforeseen issues. I still have to read it through one last time and correct any issues that I see, but frankly, once the book is at this stage, it's usually in pretty good shape.
In case you haven't read Grim Repo, you can read the first couple chapters here, and learn all about Captain Grimm and his crew of starship repossession specialists.
The last two pictures here are what Parted Out looks like from the back, and what it looks like nestled in with all the rest of my books. It looks so happy there, right next to Grim Repo, doesn't it?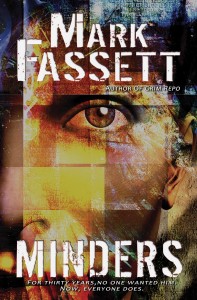 Early last year, I wrote this book. It started in a sewer, and went in directions I could not have anticipated. I planned on releasing it in October last year, but life intervened and I couldn't even read it for months.
But, eventually, I was able to right myself, pick up the book, and start working on it again. A funny thing happened. I couldn't put the book down. Even though I was marking passages and errors, I read through it in only a couple days.
I had no goals when I wrote this book, other than to do something different (for me) and to write an exciting story, and I think I achieved both of those goals.
So, more than a fourteen months after I put the last word down on the first draft, Minders emerges from the sewer to see the light of day.
---
Alone
Steve never wanted to live his life at night, sleeping in the darkest places of the city during the day. He never asked for his body to change and give him abilities that would turn him into a pariah. And after thirty years, he never thought his life would change again.
Hunted
Deep in a dark sewer, his unwanted reality comes crashing down after he receives a cryptic message from another that shares his same fate. "They hunt, brother."
Betrayed
In a race to learn who hunts him, Steve must dodge betrayal, clandestine organizations, and crazed people with abilities as strong as his own to learn why, after thirty years, someone finally cares.
---
Available now at Amazon, Barnes & Noble, and Smashwords. Apple iBooks and Kobo will be available as soon as it gets through their process.
Click her for links and an excerpt.
Or, just click the links below, because you know it's going to be great and you don't need an excerpt!
First, I want to say that I am very sorry that Fragments is not out, yet. It's the longest book I've written so far, twenty-eight percent longer than Shattered, and it's taking me time to work through it. Back in May, I started formatting the paper edition, and quickly decided that I needed to do another edit of the book, which took longer than I thought. The book is better for it.
I submitted the files for the print edition last week, and I had planned to release it next week, assuming all went well. Unfortunately, all is not well. I discovered that the font I planned to use on the cover and some of the interior, while listed as public domain, may not have been stolen by the "author" of the font, and thus not public domain at all. There seems to be some question, but if there's a question, I'm not going to risk infringing on someone else's copyrights. So, I've had to redo the lettering with a font that I DO own a license to, which means I will have to order another proof, and that will delay the book by at least another week. I am going to wait and check the proof that's already on it's way before ordering the new one, so that I can catch all the other issues that might have cropped up. That said, the target date for Fragments is now August first, give or take a few days.
This latest delay won't have a huge effect on future releases. I expect Zombies Bought the Farm to be released around the third week of August, and Minders to release around the middle of September, with the sequel to Grim Repo in October. I'm not placing a date on Reworked, yet, because it's not finished, and it will need a lot of time to edit. It looks to be about thirty percent longer than Fragments, despite what the word meter says.
Finally, I'm looking for a new tile for The Sacrifice of Mendleson Moony. My wife and I talked about it, and we've both concluded that, as cool as the title is, it doesn't fit the book. The book is a fantasy romance book, and nothing about the title indicates that the romance between the characters is a significant driver of the story. If you've read the book, help me out. I can't, for the life of me, come up with a title that fits. Please send me your suggestions. If you suggest a title and I use it, I'll send you a free book of mine (your choice).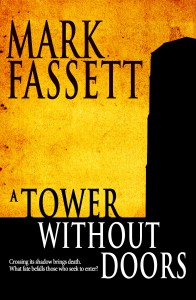 Few Dare Cross Its Shadow
The tower stood for centuries, a dark and forbidding figure against the horizon. Bremin toiled in its shadow his entire life, just like his father and grandfather. It did not appear the tower or Bremins's life would ever change…
Until the day a tight-lipped stranger offered Bremin an enormous sum of money to guide him to the tower so that he may discover its mysteries.
Only, Bremin knows the tower's power, and he fears what might befall them should they cross through the tower's shadow.
---
A Tower Without Doors is a much-much-post-apocalyptic novella that turned out far different than I anticipated, as well as about twice as long. At first, I thought it would be a fantasy short story, and then things happened, as they usually do, and it became something else. It's available in all the usual places right now (Apple should be along in a week or so – I'm going through them directly now, so I'm not sure how long that will take). If you want a paper copy, and you purchase from me, I'll sign it and throw in the electronic versions for free!
There's a quick preview on the book page.