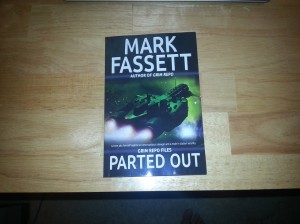 I have the proof copy of Parted Out, the second book in The Grim Repo Files, in my grubby little hands. It's twice as long as the first book, and hopefully twice as exciting.
The book will be out at the end of the month, barring any unforeseen issues. I still have to read it through one last time and correct any issues that I see, but frankly, once the book is at this stage, it's usually in pretty good shape.
In case you haven't read Grim Repo, you can read the first couple chapters here, and learn all about Captain Grimm and his crew of starship repossession specialists.
The last two pictures here are what Parted Out looks like from the back, and what it looks like nestled in with all the rest of my books. It looks so happy there, right next to Grim Repo, doesn't it?