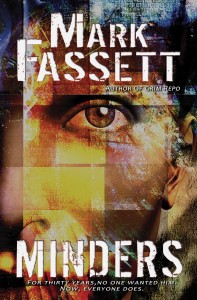 Early last year, I wrote this book. It started in a sewer, and went in directions I could not have anticipated. I planned on releasing it in October last year, but life intervened and I couldn't even read it for months.
But, eventually, I was able to right myself, pick up the book, and start working on it again. A funny thing happened. I couldn't put the book down. Even though I was marking passages and errors, I read through it in only a couple days.
I had no goals when I wrote this book, other than to do something different (for me) and to write an exciting story, and I think I achieved both of those goals.
So, more than a fourteen months after I put the last word down on the first draft, Minders emerges from the sewer to see the light of day.
---
Alone
Steve never wanted to live his life at night, sleeping in the darkest places of the city during the day. He never asked for his body to change and give him abilities that would turn him into a pariah. And after thirty years, he never thought his life would change again.
Hunted
Deep in a dark sewer, his unwanted reality comes crashing down after he receives a cryptic message from another that shares his same fate. "They hunt, brother."
Betrayed
In a race to learn who hunts him, Steve must dodge betrayal, clandestine organizations, and crazed people with abilities as strong as his own to learn why, after thirty years, someone finally cares.
---
Available now at Amazon, Barnes & Noble, and Smashwords. Apple iBooks and Kobo will be available as soon as it gets through their process.
Click her for links and an excerpt.
Or, just click the links below, because you know it's going to be great and you don't need an excerpt!