Lords of Genova
Questioner's Shadow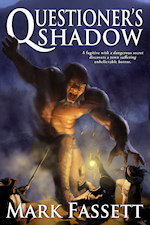 On the run from an Empire he once served, Lord Questioner Petyr Ocyna stumbles across the mutilated body of a young woman in the middle of the forest, not far from a strange barrier known as the Fringe.
Despite the urgings of his companion Alec, Petyr chooses to risk a possible trip to the gallows in order to discover the killer.
But the truth he uncovers in the small logging town of Dunsriver might not only lead to the end of his own life, it just might lead to the destruction of the Empire.