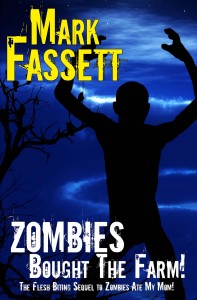 When I first wrote Zombies Ate My Mom!, I had planned for it to be a short story of about 3000 words. Of course, when I showed it to my wife and my beta readers, they all said the same thing. "It's not finished!"
After I reread it, I had to agree, which is how Zombies Ate My Mom! became the novella that it is.
But there was the inevitable question. "What happens next?"
So, just in time for Halloween, Zombies Bought The Farm, the second novella in my Zombies series answers that question. It's now available from most of the major retailers, and should be available from all of them before the end of the month.
Andrea and her boyfriend Brad, along with their new friend Sean and the young boy Danny, escaped from zombie infested Lynnwood to a quiet, cozy farm. After three months, the zombies seem to have thinned out and the four of them are getting used to their new life.
Except they are slowly running out of food, and they haven't got a clue about how to butcher a cow.
When a prison bus carrying a close-knit family stops in their driveway, they invite them in for dinner. but soon, they discover the family harbors a terrifying secret.
And Brad still can't shoot.