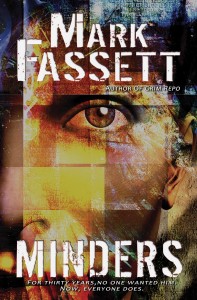 Steve sleeps in the darkest of places by day and roams the streets at night, a victim of cutting edge science. His unwanted reality crashes down around him after he receives a cryptic message from another who shares his fate. "They hunt, brother." Steve must dodge betrayal, clandestine organizations, and others with abilities like his to learn why, after thirty years, someone finally cares.
I haven't posted much here in a long time. It's challenging when nothing seems to be happening, when writing isn't going well, to talk as if things are okay. It's been a challenging year (yes, another one), and I just find that I don't want to speak publicly about it. It's hard to feel, sometimes, like anyone cares. I know people do, I know you're out there, but knowing doesn't really alter my perceptions.
But it's time to climb out of the hole, take a peek outside, and see what the lay of the land looks like, now that spring seems like it might finally arrive (the rain this year has been relentless).
So, here's what's going on.
I'll be running a Kickstarter for the Mac version of TrackerBox in the near near future. If you have been waiting for a Mac version of TrackerBox, this is the only way it's going to happen. I'll post more when it goes live.
I have been writing, but I've been writing songs. You can hear demos of some of them on SoundCloud. They're all kind of rough, but you should get the idea of what I'm aiming for. And when I say they're rough, each of them were written and recorded in a single day. The plan is to write a few more, then do some work on the demos, and record an album.
I'm still working on the multiplayer part of the game Paperback, which you can find on iOS and Android. It's a great word/card game. That should be done soon (I'm timing the TrackerBox Kickstarter around when I think that will be done).
Do not worry, more books will be coming. I can't leave Robert and company, Grim, or the other the crew from Minders alone for too much longer.
If you're still listening, thanks for hanging around in my absence. I'm going to try to be better about posting regularly.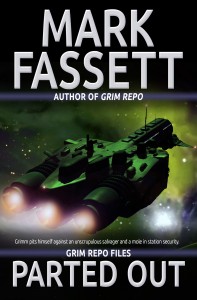 After a year in the deep dark of the Fringe, Parted Out is now available almost everywhere! It's another fast paced adventure for Captain Grimm and his crew, and I have to say that, even after the fourth and fifth read, I still enjoyed it.
If you haven't read about Grimm, before, I've got a special treat for you. Grim Repo, the first book in the series, is now free almost everywhere it's available. I'm working on getting it free on Amazon, too, but they seem to be taking their time in matching the price.
So, download Grim Repo, then treat yourself to Parted Out!
Here's the blurb.
Starship repossession specialist Grimm and his crew, after their last botched repo, look forward to an easy and quick job, with their eyes on a much needed vacation as a reward.
Unfortunately, nothing ever goes as planned for Grimm. Caught between a salvager who wants the same ship and a bank that has him on a very tight deadline, Grimm must use every trick he knows to get the ship off station, intact and on time, while keeping himself and his crew alive.
The first chapter and links to where you can buy Parted Out are on the Parted Out page.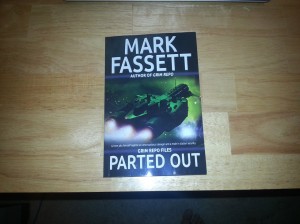 I have the proof copy of Parted Out, the second book in The Grim Repo Files, in my grubby little hands. It's twice as long as the first book, and hopefully twice as exciting.
The book will be out at the end of the month, barring any unforeseen issues. I still have to read it through one last time and correct any issues that I see, but frankly, once the book is at this stage, it's usually in pretty good shape.
In case you haven't read Grim Repo, you can read the first couple chapters here, and learn all about Captain Grimm and his crew of starship repossession specialists.
The last two pictures here are what Parted Out looks like from the back, and what it looks like nestled in with all the rest of my books. It looks so happy there, right next to Grim Repo, doesn't it?
This morning, quite unexpectedly, October came to an end. I'd felt like I had started moving toward an ending a few days ago, but I didn't think I'd stumble over it quite this soon. I would have said, when I woke up this morning, that there were at least a couple days left.
But in my second session today, things wrapped themselves up in ways I hadn't expected, and I found myself with no more story to write.
October is, I think, a much more subtle story than I've written previously. It certainly isn't like anything else I've done. It's going to sit for a couple weeks before I get down to reading it and learning just what I've perpetrated on the world. I'll probably let it go until just after I release Minders. It'll be released at the end of September, just in time for you to read it in… October.
Coming up, next, though, is Minders. This bio-tech thriller/superhero origin story will be out Thursday, May 29th in most online stores. I've ordered what should be the last of proof copies, and if it's in good shape, which I expect it to be, I'll be spending Memorial Day weekend uploading it everywhere.
There's one more thing. Parted Out: Grim Repo Files #2 has a release date, too. July 29, 2014. I'm really excited to get these books out, finally. It's been a long, hard year, but things are finally coming together.
Tomorrow morning, I pick up where I left off on Bloodweave. I'm excited about it, too. I can't wait to learn what Robert, Angela, Gerard, Nina, and Demetrius are going to do.
In the last post, I made some predictions about time frames and other things, and I was wrong on pretty much all of them. Minders din't come out before Christmas, I didn't really get back to writing as soon as I thought I would, and Grim Repo 2 is still sitting on my hard drive.
But that's all old news.
We're still dealing with some issues (who isn't), but things have now progressed to the point that I've been able to write regularly again. Fourteen out of the last sixteen days, in fact. I can finally get out of my head and into my characters heads, and it feels really good.
This weekend, I'm formatting Minders for paper. It'll be released at the end of May. It is, I think, one of the most exciting books I've written, to date. Usually, by this time in the process, I can't stand to read my book again. This time, I'm looking forward to having to do the proofread.
Grim 2 is slated for a late July release. The book October (which I'm writing right now), is due out at the end of September. If I have time, I'll slip in a couple of the stories that I've got sitting around.
I'd like to get these things out faster, but I'm not writing full time. Getting us on a firm financial footing takes precedence, right now, but I'm back on track and pushing ahead.
And as soon as I'm done writing October, I'm going to pick up Bloodweave again and get it out to you as soon as I possibly can.
First, I want to say that I am very sorry that Fragments is not out, yet. It's the longest book I've written so far, twenty-eight percent longer than Shattered, and it's taking me time to work through it. Back in May, I started formatting the paper edition, and quickly decided that I needed to do another edit of the book, which took longer than I thought. The book is better for it.
I submitted the files for the print edition last week, and I had planned to release it next week, assuming all went well. Unfortunately, all is not well. I discovered that the font I planned to use on the cover and some of the interior, while listed as public domain, may not have been stolen by the "author" of the font, and thus not public domain at all. There seems to be some question, but if there's a question, I'm not going to risk infringing on someone else's copyrights. So, I've had to redo the lettering with a font that I DO own a license to, which means I will have to order another proof, and that will delay the book by at least another week. I am going to wait and check the proof that's already on it's way before ordering the new one, so that I can catch all the other issues that might have cropped up. That said, the target date for Fragments is now August first, give or take a few days.
This latest delay won't have a huge effect on future releases. I expect Zombies Bought the Farm to be released around the third week of August, and Minders to release around the middle of September, with the sequel to Grim Repo in October. I'm not placing a date on Reworked, yet, because it's not finished, and it will need a lot of time to edit. It looks to be about thirty percent longer than Fragments, despite what the word meter says.
Finally, I'm looking for a new tile for The Sacrifice of Mendleson Moony. My wife and I talked about it, and we've both concluded that, as cool as the title is, it doesn't fit the book. The book is a fantasy romance book, and nothing about the title indicates that the romance between the characters is a significant driver of the story. If you've read the book, help me out. I can't, for the life of me, come up with a title that fits. Please send me your suggestions. If you suggest a title and I use it, I'll send you a free book of mine (your choice).