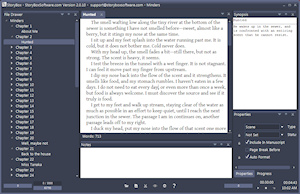 StoryBox 2 is done. Finally. Eight months of tweaking and rearranging and wholesale changing have made StoryBox into a more flexible piece of writing software than it has ever been. And if you've used it, you know that it was already flexible.
My goal with StoryBox 2 was to clean up as many of the dusty corners as I could, and to do a better job at having things organized while still available to use everywhere, including in full screen mode.
With that in mind, I created the MenuBar – a strip along the bottom that takes up no more room on the screen than the combination of the Menu and StatusBar that previously existed, but gives you more functionality, including a Countdown Timer, 6 different word count meters, the clock and session timers, and, of course, the menu. The menu, instead of being text, is now a set of six icons. It takes a moment to get used to it, but once you do, I think you'll like the fact that they are out of your line of sight.
The next big thing is the new export dialog. It allows you to save Export Profiles for each story. The Export Profiles save every setting, as well as a list of the selected files. I use this to make separate eBook exports for each retailer like Amazon and Barnes & Noble. This way, I can customize the front and back matter for the retailers, and if I need to make changes, I don't have to worry about making mistakes when selecting which files to export. The profile saves those selections.
The third big change is the Full Screen mode. In Full Screen, you now have access to every tool in StoryBox. You can do your outlines in full screen, you can do your Storyboarding in full screen, and you can have multiple documents visible side by side in full screen. You can set a different theme for full screen than you have in Windowed mode, and you can even set up the MenuBar differently.
In the coming months, I'm going to back off StoryBox development, to a degree. I will fix bugs over the summer while I concentrate on getting a Mac version of TrackerBox out, as well as the four books I have currently finished writing, but haven't published. After that, releases will focus on one part of StoryBox at a time, the first of which will be search features.
There are 114 changes from 1.5 to 2.0, many of them minor, but far more than I could talk about in a blog post. Check them out and download StoryBox 2 from StoryBoxSoftware.com.