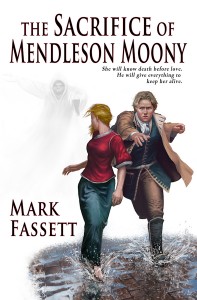 Today is Release Day for The Sacrifice of Mendleson Moony!
And this time, I've almost got it right, I think. If you click through to the Mendleson Moony page, there are links for each of the retailers that are currently available, including Amazon, DriveThruFiction.com, Barnes & Noble,  and Smashwords. Kobo and Sony should be along in the next few weeks. I wish I could speed those up, but there is little I can do about it. (Sony hasn't even put up Questioner's Shadow yet 🙁 ).
The paperback is also available from CreateSpace, and Amazon. In about six weeks, you should be able to order it from other outlets like Barnes & Noble.
I'm pretty excited about this book. Its roots are in the Marketing workshop I took from Dean Wesley Smith and Kristine Kathryn Rusch last March. We had to write a proposal for a new novel each day, and this is based off of the third proposal I wrote.
I was laying in bed at the hotel, staring up at the starry sky (there are stars on the ceilings of the rooms at the hotel), knowing that I had to write a proposal that day before the session, and I had nothing. I must have lay there for an hour before I decided to forget worrying about a plot and started thinking about the characters, and right at that moment, Mendleson Moony's name popped into my head. Following on that, I came up with the name of Henrietta Swooth, and about two minutes later, I had the title.
This is the book I tried to write in ten days. It took me quite a bit longer due in part to a wall I hit in the middle and some other life issues that caused a lot of stress, but I think it turned out well, if a bit different from my previous novels.
There's a two chapter excerpt on the book page, too!