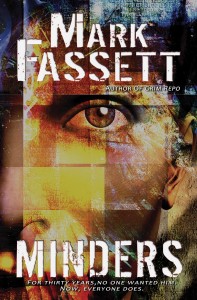 Steve sleeps in the darkest of places by day and roams the streets at night, a victim of cutting edge science. His unwanted reality crashes down around him after he receives a cryptic message from another who shares his fate. "They hunt, brother." Steve must dodge betrayal, clandestine organizations, and others with abilities like his to learn why, after thirty years, someone finally cares.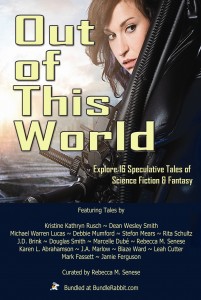 Grim Repo is in an amazing bundle with a bunch of other books from other authors (most of whom I've read and loved), and I really think you should check it out. Sixteen novels and novellas for $10 (or more, if you want).
Obviously, if you're here, you've probably already read Grim Repo, but this bundle is a chance to get a bunch of other really stellar (like the pun there?) books for less than a buck a piece.
Rebecca M. Senese's Interlude Beyond is part of an amazing series about a programmed assassin who is starting to break out of her programming. Michael Warren Lucas' stories always make me read them to the end. I've read books by more than half of the rest of the authors, but not these particular books, and I'm going to buy the bundle myself, just for the chance to read them.
Go check it out. I don't think you'll be disappointed.
I'm trying something new these days, when it comes to getting my writing in. I used to write at various times of day, and I'd write for nearly an hour before taking a break. It worked, when I wrote. I could write about a thousand words an hour, give or take, that way. But it made things more difficult than they had to be. Carving an hour at a time out of my day, when raising kids at home and trying to do other paying work, was challenging at times.
So what am I doing different?
I'm writing in 30 minute chunks. Some people call them sprints, but 30 minutes doesn't seem like a sprint, to me, but it seems to be working pretty well. I can stay pretty focused for a half hour, and I can put things off a lot easier when they only have to wait fifteen or twenty minutes instead of forty-five. Also, it's easier to squeeze thirty minute chunks out of my day when I can't find the time to do them all in a row.
The real amazing thing?
On average, I'm getting more words done per hour. Not a lot, but I've had 700 and 800 word half-hours. Yes, some people write much faster than that, but I don't outline, which means I stop and think more than most outliners need to. I'm also not exactly the fastest typist in the world either, topping out about 70 words per minute.
I'm pretty pleased with it. It's made it easy to hit my word count goals each day for the last two weeks without fail, and it means I'm still right on track for finishing this book on the 24th. Imagine that. Hitting a deadline.
Those are something new to me, too. I'll talk about that next week.
For now, the book is roughly 50,000 words and counting.
I last wrote many moons ago about what to write next, and I did eventually figure it out. I can't tell you what the title is right now as it doesn't have one, but it's the first of a new series (I know – I'll talk about that in a bit), and even the series name is just a placeholder. It's based on a proposal for a sword & sorcery novel I wrote in a workshop back in 2011. Though it started as a single novel, once I began fleshing it out, I discovered that it was really four or five books.
I'm more than half way through this first book, and it has a due date of March 24th, with a publication date of July 31. So far, I'm on target to hit the dates. It'll be about the length of Minders, perhaps slightly longer.
What I'm doing differently, this time, is I'm going right into writing the second book, followed by the third, then the fourth, and if necessary, the fifth. I want you to have the whole story, as quickly as I can make it happen. I'm excited about the series, and I hope you will be, too.
"But what about the other series?" I hear you ask.
They will get love, too. I haven't given up on any of them.
I had a rough couple of years in my personal life, and I've been through a lot of therapy (a lot, for me – I'm sure others have been through more), and pretty much everything ground to a halt mid-2014. Sure, I published October in 2015, but it was written in May of 2014. The two books I published in 2014, Minders and Parted out were written in 2013. I haven't been able to really complete anything substantial in nearly two years, and I really couldn't seem to get excited about any of the projects I had started before 2014.
I wouldn't say my personal life is completely healed or on track, but we're getting there slowly. I am getting there, slowly, and I've made a deal that should keep the Empire out of here forever. Oh, wait – I made a plan, not a deal, and the plan calls for following up this new series with more Grim, more wizards, more Minders, and more Lords of Genova before I take on anything new. With some luck and some strong effort, those books will come far more quickly than you could possibly imagine.
I do want to say thanks to anyone who has stuck with me during the last couple of years. I'm pretty hopeful you'll be rewarded by the next couple of years.
P.S. In case you want to see another project that I'm working on just to keep the money flowing, check this game out. Paperback is a game by Tim Fowers that mixes deck building with a word game, and it's a ton of fun. I'm working on the iOS and Android app versions of this game, and I think they should be out soon (before the book, at least).
If I'm late on any of my book deliveries in the next couple months, it's because I just discovered Alias on NetFlix. I watched a half dozen episodes tonight, and I could watch them all day tomorrow, too. Amazing. How did I miss it when it was on? Okay, fine. I know how. I mostly don't watch TV.  Maybe one TV show per season (addicted to The Walking Dead and Suits. Now, addicted to Alias. If you haven't seen it, do yourself a favor and watch it right now.
I'm only going to mention when a newsletter goes out just this once. I sent it this morning, and it included a link to the free electronic copy of Zombies Ate My Mom!. If you signed up and you didn't get it, check your junk/spam folder for it. It'll be from a gmail account that has my first and last name in front of it.
For those of you that didn't sign up, sign up anyway. You'll get notice of new releases delivered right to your inbox, and I will probably do more freebies like this one in the future.
Today marks the ten year anniversary of my marriage to my lovely wife, Wendy. Ten years went by surprisingly fast.
Wendy, if you're reading this (of course you are since I'm going to tell you to read it), prior to meeting you, I would have never imagined that I would have found what I found in you. The support, love, and sense joy you give to me is a level of magnitude greater than I ever could have expected. I don't deserve you, but I'm glad you're mine.
Love,
Mark