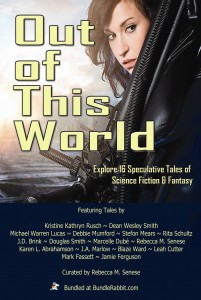 Grim Repo is in an amazing bundle with a bunch of other books from other authors (most of whom I've read and loved), and I really think you should check it out. Sixteen novels and novellas for $10 (or more, if you want).
Obviously, if you're here, you've probably already read Grim Repo, but this bundle is a chance to get a bunch of other really stellar (like the pun there?) books for less than a buck a piece.
Rebecca M. Senese's Interlude Beyond is part of an amazing series about a programmed assassin who is starting to break out of her programming. Michael Warren Lucas' stories always make me read them to the end. I've read books by more than half of the rest of the authors, but not these particular books, and I'm going to buy the bundle myself, just for the chance to read them.
Go check it out. I don't think you'll be disappointed.