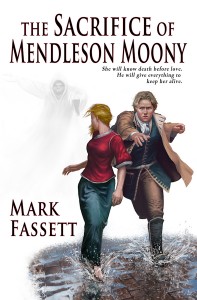 Here's the cover for Mendleson Moony. I'm currently working on reading the proof and the final edits. It should be available sometime in mid to late March in most formats from the major stores. Sometimes Sony takes a while (Questioner's Shadow is STILL not available there for some reason).
And here's the back cover copy, in case you're interested.
Fisherman Mendleson Moony lost his family in a fire. Four years later, he still mourns and has given up the sea to farm his land.
Henrietta Swooth, the Seer that has lived across the road from him for the last three years, has a secret. She knows the time and place of her death, and she must soon leave to meet it.
A vision sends her to the summer festival where she and Mendleson talk for the first time. When he touches her hand, everything changes, and not for the better.
Mendleson comes away with a desire to save her. She comes away knowing his attempts to save her will see him dead at her side.
Can Mendleson overcome his loss to find love again? Is it already too late?