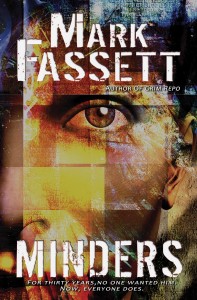 Steve sleeps in the darkest of places by day and roams the streets at night, a victim of cutting edge science. His unwanted reality crashes down around him after he receives a cryptic message from another who shares his fate. "They hunt, brother." Steve must dodge betrayal, clandestine organizations, and others with abilities like his to learn why, after thirty years, someone finally cares.
Hello, I'm Mark Fassett. I am the author of several fantasy and science fiction books, including the coming of age fantasy novel Shattered and the episodic space adventure Grim Repo.
In the past, I've played electric guitar for a heavy metal band that went nowhere, and I worked on several games for various platforms. Some of the games even had titles you might have heard of.
Below is a list of the more notable things I've done.
Books I've Written
Shattered: A Wizard's Work Book One
Questioner's Shadow (Lords of Genova #1)
The Sacrifice of Mendleson Moony
Zombies Ate My Mom
Grim Repo (Grim Repo Files #1)
Games I've worked on (in various capacities)
Allegiance
Fighter Ace II
Derelict
3d Hunting: Trophy Whitetail
3d Hunting: Shark
3d Hunting: Duck Hunt
3d Hunting: Trexx
3d Hunting: Grizzly
Stargate
Duke Nukem Mobile
Duke Nukem Bikini Project
Duke Nukem Arena 3D
Prey Mobile 2D
Rocky Boxking 3D
Guitar Hero 3 Mobile
Guitar Hero World Tour
Fieldrunners
Don't Forget The Lyrics
Music I've Made
I put some of the music I've recorded since I left the nowhere band on this page.